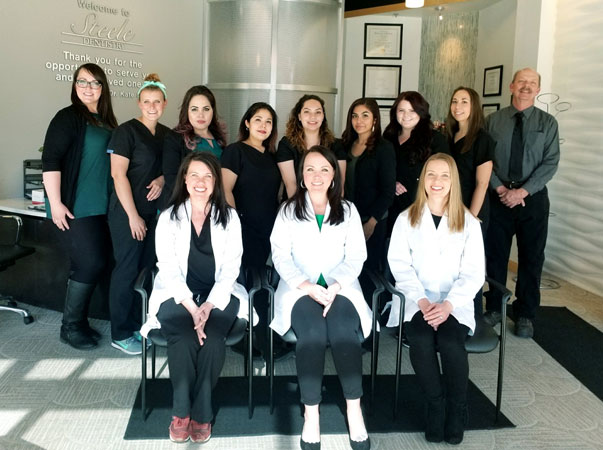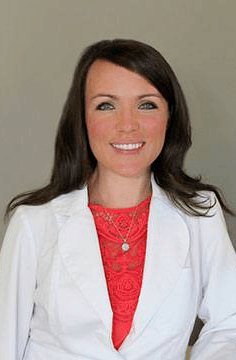 Dr. Kate Steele
Dr. Kate Steele is the owner of Steele Dentistry. She grew up in Wray, Colorado, with her older brother and younger sister. She and her husband, Jeff, have one 3-year-old son, Carson. She has 9 years of experience in the dental field. Dr. Steele's favorite part of her job is creating an experience that is easy and enjoyable for her patients. She also loves developing her team so that they enjoy great success and feel passionate about their work. Dr. Steele enjoys spending time with her family and friends. She also enjoys spending time in the mountains, hiking and skiing. Most of all, she loves spending time with her husband and son."Remember your dreams and fight for them. You must know what you want from your life. There is just one thing that make your dreams become impossible: the fear of failure." – Paulo Coelho
---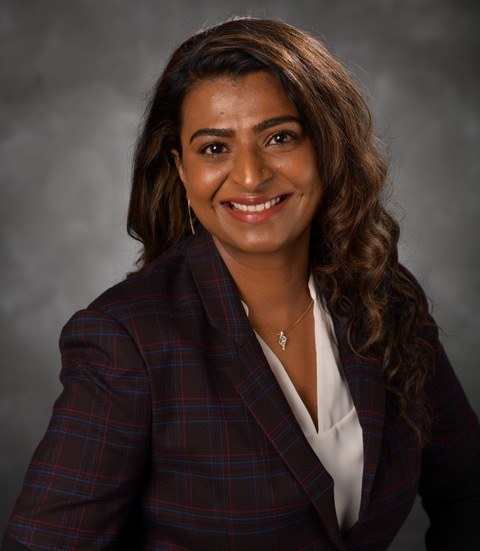 Dr. Lakshmi Reddy
Dr. Lakshmi Reddy was born and raised in India along with her two sisters. She earned her dental degree in India and practiced there for five years before she moved to Denver, CO, in 2012. She attended the University of Colorado School of Dental Medicine to receive her Doctor of Dental Surgery. Dr. Reddy takes pride in treating her patients to the best of her ability and continuing to advance in the art of dentistry through extensive continuing education courses to provide her patients with the exceptional care they deserve. In her free time, Dr. Reddy enjoys practicing yoga and outdoor activities with her husband and 6-year-old son.
---
Meet Our Team
At Steele Dentistry, our team of highly skilled dental professionals strives to provide quality dental care in Denver, Colorado, for individuals and families. We work to maintain a welcoming, helpful environment for all of our patients by ensuring that you are comfortable during your treatments and that your dental needs are met in a personal and respectful manner. We invite you to learn more about our team by calling our office at 303-278-3353 and making an appointment with Dr. Kate Steele or Dr. Lakshmi Reddy. We look forward to caring for your smile!
Megan – Practice Director
Megan began working at Steele Dentistry in 2009. After taking time off to be a stay-at-home mom, she returned in 2015.
Megan was born and raised in eastern Colorado with two siblings. She now lives in northern Colorado with her two beautiful daughters. She loves to spend time with her family and friends outdoors exploring our beautiful state. When not outdoors, she likes to craft and cheer on her favorite team – the Denver Broncos.
"Keep away from people who  try to belittle your ambitions. Small people always do that, but the really great make you feel that you, too, can become great." – Mark Twain
---
Alexis – Financial Coordinator
Alexis began her journey in dentistry in 2016 and started as a dental assistant, after a few years she decided to learn more about the business side and is happy with her position as Financial Coordinator with us. In her off time she enjoys good friends, food and company. She is happily married to her husband Zakk and a proud dog mom to Tinsley Marie.
---
Rachel – Registered Dental Hygienist
Rachel grew up in Troy, Illinois, with her three sisters, Kristi, Lauren, and Angie. She has four years of experience in the dental field. Her favorite thing about working at Steele Dentistry is our great work environment – our team gets along and works well together, and she has an awesome boss! Rachel's favorite animal is a manatee, and her favorite sport is Blues Hockey. She follows the St. Louis Blues and the St. Louis Cardinals.
Rachel's motto is, "Fake it till you make it!"
---
Dezaray – Expanded Duties Dental Assistant
Dezaray is Steele Dentistry's team lead in the assistant department. With over 10 years of dental experience, she dedicates herself to providing quality dentistry in all areas, from helping with clinical treatment to team and patient interactions.
Dezaray is originally from Houston, Texas, but was raised in Aurora, making Colorado her home. She is happily married and is the mother of two amazing boys, ages 13 and 7. In her spare time she enjoys different hobbies and activities with her family and friends.
"Let others lead small lives, but not you. Let others argue over small things, but not you. Let others cry over small hurts, but not you. Let others leave their future in someone else's hands, but not you." – Jim Rohn
---
Rachel AKA Ro – Dental Hygienist
Rachel is from Omaha, Nebraska where she graduated from UNMC in 2014 with her degree in dental hygiene. She moved shortly after due to her love of Colorado and the outdoors. When she's not caring for patients' smiles, she and her fiancé like to find new places to hike and travel whenever they get the chance.
"Keep your face always towards the sunshine and shadows will fall behind you." – Walt Whitman
---
Chriss – Patient Coordinator
Chriss was born in Colorado and spent her childhood here and in California. She is a mother of three and loves to cook, hike, camp, play sports and spend time with her kids.
---
Alysia – Hygienist
After moving to Colorado in 2016 from Minnesota, Alysia pursued her career in dental hygiene at CCD in Denver. Her interest in this field comes from a passion for helping others and wanting to make a positive difference in their lives. When she is not working as a hygienist, she enjoys traveling, trying new foods, and spending time with her husband, family and pets. She has a German Shepherd, Stella, and a cat, Theo.
"The secret of health for both mind and body is not to mourn for the past, worry about the future or anticipate troubles, but to live in the present moment wisely and earnestly." – Buddha
---
Alana – Dental Assistant
Alana has been in dentistry since 2015 starting as an assistant and then dabbling in some front office work. She prefers working in the back with patients one on one to join them for their smile journey. She and her husband enjoy exploring Colorado with their dog Ada, and taking in all the mountains have to offer. When they aren't out and about they enjoy listening to vinyls.
"Everything has beauty but not everyone sees it." – Confucious
---
Bill – Insurance Coordinator
Bill grew up on a small farm in Nebraska with three siblings. He and his wife, Sue, raised three children out in eastern Colorado where Bill retired from the natural gas industry. He has been working for Steele Dentistry since 2017. He enjoys spending time with his four grandchildren and taking it easy.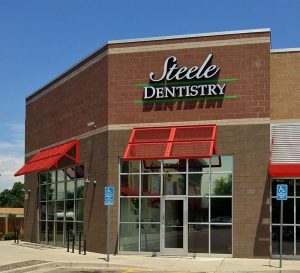 ---