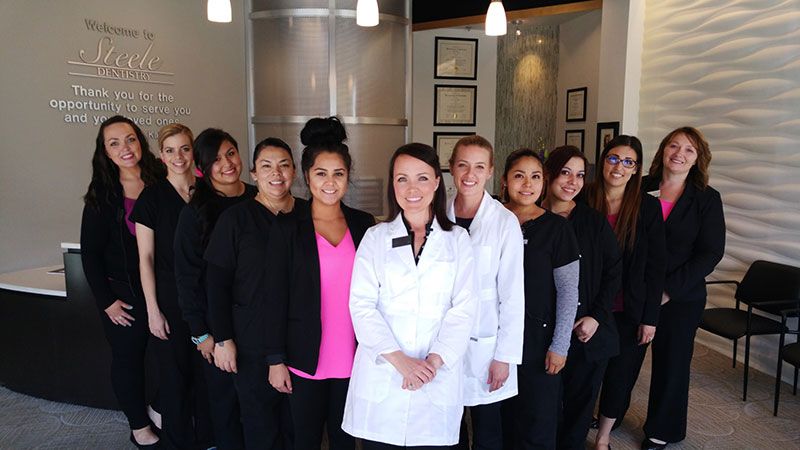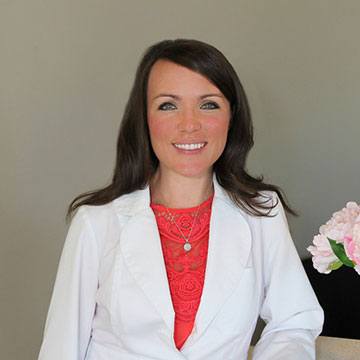 Dr. Kate Steele
Dr. Kate Steele is the owner of Steele Dentistry. She grew up in Wray, Colorado, with her older brother and younger sister. She and her husband, Jeff, have one 3-year-old son, Carson. She has 9 years of experience in the dental field. Dr. Steele's favorite part of her job is creating an experience that is easy and enjoyable for her patients. She also loves developing her team so that they enjoy great success and feel passionate about their work.Dr. Steele enjoys spending time with her family and friends. She also enjoys spending time in the mountains, hiking and skiing. Most of all, she loves spending time with her husband and son.
"Remember your dreams and fight for them. You must know what you want from your life. There is just one thing that make your dreams become impossible: the fear of failure." – Paulo Coelho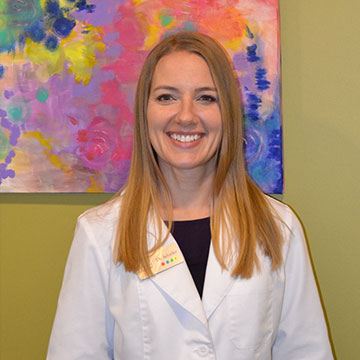 Dr. Lisa Schaffer, Associate Dentist
Dr. Lisa Schaffer grew up in Michigan and Colorado. She earned her Bachelor of Science degree in Business Administration, with a minor in Biochemistry, before attending dental school at the University of Colorado, graduating with her Doctor of Dental Surgery (DDS) degree in 2007. She is a member of the 5280 Study Club, an affiliate of the Seattle Study Club, through which she regularly continues her dental education. Dr. Schaffer has been practicing in the Denver, Colorado, area for 10 years.As a dentist, Dr. Schaffer's goal is to provide great dentistry to all patients while making their treatment as comfortable as possible. She loves the way our team works together seamlessly while maintaining a sense of humor; they make work fun.
Dr. Schaffer is married to Mike. She loves crab legs, cornbread (with NO jalapenos), and dark chocolate, and her favorite movies are Dumb and Dumber and The Wizard of Oz. Her hobbies include cooking, dining out, fitness, hiking, and tennis.
"Be yourself, everyone else is already taken." – Oscar Wilde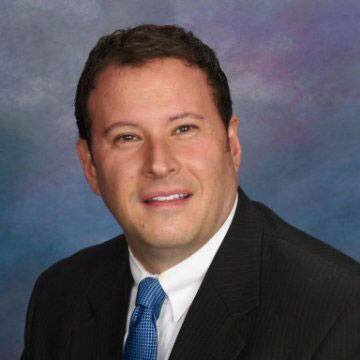 Dr. Jay Randell, DMD
Dr. Jay S. Randell grew up in Paramus, New Jersey, along with his younger brother. He completed his undergraduate studies in Biological Sciences, with an emphasis in genetics, at the University of Maryland. He attended dental school at Tufts University in Boston, graduating in 1992. He practiced in Palm Beach County, Florida, for 22 years before relocating his family to Denver in 2015. He enjoys the calm, professional, and supportive environment at Steele Dentistry. As a dentist, his goal is to help his patients achieve a healthy smile in a calm, co-operative environment.
Dr. Randell and his husband have 4 sons through gestational surrogacy, including a set of triplets. Dr. Randell's husband is an 8th grade history teacher at DSST-Conservatory Green in Northfield. Outside of the office, he enjoys skiing, hiking, cooking, knitting, biking, and traveling. He enjoys science fiction and time travel stories.
Dr. Randell's motto for any problems he encounters is, "And someday… this will be a story, too!"
Meet Our Team

At Steele Dentistry, our team of highly skilled dental professionals strives to provide quality dental care in Denver, Colorado, for individuals and families. We work to maintain a welcoming, helpful environment for all of our patients by ensuring that you are comfortable during your treatments and that your dental needs are met in a personal and respectful manner. We invite you to learn more about our team by calling our office at 303-278-3353 and making an appointment with Dr. Kate Steele, Dr. Lisa Schaffer, and Dr. Jay Randell. We look forward to caring for your smile!
Megan – Practice Director

Megan began working at Steele Dentistry in 2009. After taking time off to be a stay-at-home mom, she returned in 2015.
Megan was born and raised in eastern Colorado with 2 siblings.  She now lives in northern Colorado with her two beautiful daughters. She loves to spend time with her family and friends outdoors exploring our beautiful state. When not outdoors, she likes to craft and cheer on her favorite team – the Denver Broncos.
"Keep away from people who  try to belittle your ambitions. Small people always do that, but the really great make you feel that you, too, can become great." – Mark Twain
Dezaray – Expanded Duties Dental Assistant

Dezaray is Steele Dentistry's team lead in the assistant department. With almost 10 years of dental experience, she dedicates herself to providing quality dentistry in all areas, from helping with clinical treatment to team and patient interactions.
Dezaray is originally from Houston, Texas, but was raised in Aurora, making Colorado her home. She is happily married and is the mother of two amazing boys, ages 13 and 7. In her spare time she enjoys different hobbies and activities with her family and friends.
"Let others lead small lives, but not you. Let others argue over small things, but not you. Let others cry over small hurts, but not you. Let others leave their future in someone else's hands, but not you." – Jim Rohn
Brenda – Sterilization Technician

Brenda grew up with her two brothers and parents in Aurora, Colorado. She is married to Carlos, loves food, and follows the Real Madrid soccer team. She is attending to a young adult group at a Catholic church. She also loves to play soccer and do outdoor activities. Brenda is new to the dental field, and enjoys her work at Steele Dentistry because everyone is friendly and great to work with.
Alyssa – Lead Hygienist

Alyssa and her two younger brothers grew up in Durham, North Carolina. She was born in Canada, and became an American citizen 2 years ago. She has been dating her partner Bo for almost 4 years, and has 10 years of experience in the dental field. She enjoys the constant growth and change to make ourselves better at Steele Dentistry. Alyssa enjoys playing softball, and is an extreme cat lover. She follows Duke basketball.
Rachel – Registered Dental Hygienist

Rachel grew up in Troy, Illinois, with her 3 sisters, Kristi, Lauren, and Angie. She has 3 years of experience in the dental field. Her favorite thing about working at Steele Dentistry is our great work environment – our team gets along and works well together, and she has an awesome boss! Rachel's favorite animal is a manatee, and her favorite sport is Blues Hockey. She follows the St. Louis Blues and the St. Louis Cardinals.
Rachel's motto is, "Fake it till you make it!"
Karina – Dental Assistant

Karina grew up in Aurora, Colorado, and is the second of three sisters. She has a boyfriend of 3 years, and has been in the dental field for 2 years. Her favorite part of working at Steele Dentistry is the fact that we work as a team and build each other up. Karina loves the outdoors and camping. Her favorite movie is Monsters, Inc., and her favorite sports team is the Boston Celtics.
Karina's motto is, "Every accomplishment starts with the decision to try."
Cinnita – Dental Assistant
Cinnita grew up in in Colorado and originally studied to become a cosmetologist. After cosmetology school, though, she decided she wanted a more stable career and turned to dental assisting. She has been with our practice for just over a year and loves everything about dentistry, including the people she works with every day and especially the patients. Cinnita is the mother of 3 beautiful girls and 1 handsome boy.